If you're like most of the men I know, you're fully aware that Valentine's Day is coming and you're feeling the pressure to make this day special for your significant other - but you've bought exactly zero gifts.
Maybe it's because nothing looks quite special enough for your loved one and you don't want to revert to the usual chocolates/flowers/card/apologetic-puppy-dog-eyes combo - but you know you're probably going to anyway, because you're running out of time.
Maybe it's because your significant other is one of those tricksy ones. You know the one - she's all cool about it like she doesn't give a chocolate truffle for the holiday and couldn't care less about being included in the romantic fervor. But you've seen her gazing at flowers as she walks past them in the store, or looking wistful as she watches any of the thousand 1-800-flowers commercials we've all seen on TV. But you also know that she's totally right when she says things like, "Meh. Why would I want a gift that dies in three days, anyway? And all I can do is look at them, really. No, honey, really - I don't need flowers this year, or anything at all." Still, she's lying, and she needs something, and you know this is a test you're about to fail. And you hate it.
Probably you're somewhere in between the two extremes, but you're lucky enough to have a partner who loves you and will forgive you for going with the last-minute usual - because if you've been doing a good job as a spouse, they know how much you love them based on the way you treat them all year long.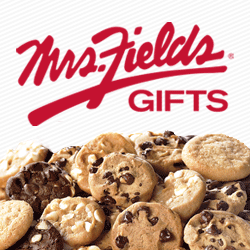 But just in case you're worried that you haven't been doing a good enough job - or if you've got one of those tricksy wives I mentioned above, I'm teaming up with
Mrs. Fields
to make sure you can still impress your special someone before the opportunity passes you by.
For as little as $19.99 (plus taxes and shipping, of course - where for an extra $10-$20, you can get as close as overnight shipping) you can send your loved one something extra special this year.
With everything from the Conversation Hearts Box ($17.99-$20.99) to the Hugs & Kisses Pretzel Rods (19.99) or the Be Mine Bark ($19.99), you can show your loved one how special they really are - and you can do it without breaking the bank!
Splurge a little more to set your romance aflame with the Dynamite Stick ($22.99 for one, or $60.99 for three), or invite your loved one to spend some time with you in the Love Shack ($22.99)
But if you're feeling a little guilty for waiting 'til the last minute (or you're in trouble already and wish you weren't), you can go all out with the Valentine Elegance Box ($29.99), the Better Than A Letter Mailbox ($35.99), or even the Peace, Love, and Cookies Tin ($37.99).
A fun little note for you - when you add anything from the Mrs. Field's website to your cart, you will be presented with the option to add-on sweet little extras - such as stuffed animals, Valentine Candy Corn, Conversation Hearts, or even frosted cookies! This is a perfect option if you'd like to include spoiling your little loved ones (got kids?) while treating your partner - and if you click
here
, you can take advantage of Mrs. Fields's sitewide Valentine's Day discount: use the code HEART15 at checkout to save 15% on your order! Don't waste time on it though - the discount offer expires on February 14, 2017.
This applies to families of all shapes and sizes, so take advantage of this offer while it lasts! You can use it to pick up brownie bites for your munchkins, sweet treats for your wife or girlfriend - or the girl you wish was your wife or girlfriend - and even for your sport-loving husband or boyfriend (they have MLB or NBA themed cookie tins, too!).
Celebrate your favorite gal pal with the Signature Sampler ($9.99), or even pick up something for yourself! I know I did.
Questions for the Comments Section:
What are your plans for this Valentine's Day?
What was your best/worst Valentine's Day gift?